Trading 212 Profile and Safety
A London-based fintech company, Trading 212 offers a bankable online forex service powered by free and easy-to-use trading apps and platforms to access forex, commodities, and equities markets. Trading 212 is the U.K.'s no. 1 most used trading app since 2016 and is regulated by the Financial Conduct Authority (FCA).
Learn more about Trading 212 and its trading prowess by reading this detailed forex broker review.
Trading 212 Trading UK Ltd. became a popular online broker by offering the first zero-commission stock trading service in the United Kingdom and Europe. Its mobile app trading platform has over 14,000,000 downloads, making it one of the more popular trading apps across the globe.
In 2017, Trading 212 conquered Germany and became the country's top mobile trading app. Trading 212 Trading UK Ltd. and Trading 212 Ltd. are the two companies representing the Trading 212 brand. The former is registered in Wales and England while the latter is registered in Bulgaria.
Trading 212 highlights its advantageous trading conditions which include zero-commission investing, zero trading fee, over 3,000 global stocks and & ETFs, fractional shares, limitless instant trades, and its AutoInvest feature. It also welcomes traders of all skill levels to try its services with a $1 stock and ETF investment.
In terms of safety, Trading 212 practices good fund governance by having segregated bank accounts for its clients' funds to separate it from the company's fund. Furthermore, clients' funds are covered by the Financial Services Compensation Scheme for the UK firm and the Investors Compensation Fund for the Bulgaria site.
If we add the brand's regulatory credentials into the picture, Trading 212 is a safe bet as it is affiliated with the Financial Conduct Authority for the UK firm and the Financial Supervision Commission for the Bulgaria firm. Both are duly regulated by known regulatory bodies and adhere to the standards and requirements set by these authorities.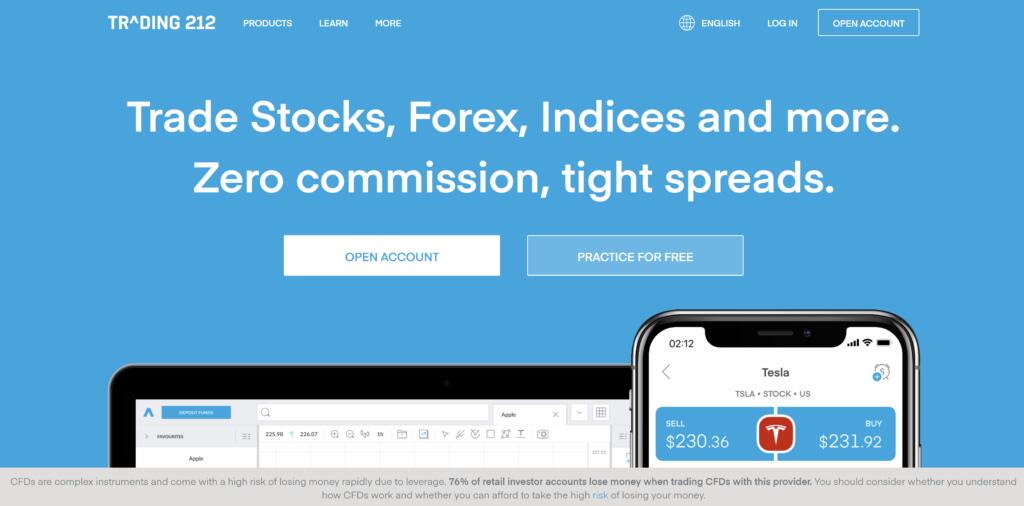 Trading 212 Features and Fees
Market Offerings
Trading 212 covers several asset classes including ETFs, Stocks, Forex (over 150 currency pairs available), Indices (over 30 indices available), and Commodities (Gold, Oil, Silver).
Account Types
Trading 212 features 3 trading account types: the CFD Account, the Invest Account, and the ISA Account. Each account type offers different financial markets and instruments to trade with. The CFD Account gives traders access to CFDs, the Invest Account features the Real stock and ETFs, and the ISA Account also specializes in Real Stock and ETFs.
Of the three featured account types, the ISA account is exclusively for U.K.-based traders only while the other two are available globally except for Canadian and U.S.-based traders as they are barred from opening an account with Trading 212.
The CFD Account type requires only a minimum of $1 for an initial deposit while the Invest Account and the ISA Account are set at a $10 minimum deposit. In terms of trading fees, Real Stock and ETF markets have zero commission fee and CFD trades have low trading fees. However, trading EURUSD pair costs high trading fees as they are built into spreads and averages 4.2 pips.
Unfortunately, corporate accounts for high-volume trading are not available on Trading 212.
On the bright side, non-trading fees including the Inactivity Fee and the Account Fee are nonexistent with Trading 212.
Funding Methods
Trading 212 has zero deposit and withdrawal fees for any funding method of your choice. It offers bank transfer, major credit & debit cards (Visa, MasterCard, Maestra), and electronic wallets as options for deposit and withdrawal transactions. Trading 212 accepts funding via Paypal, Skrill, ApplePay, Google Pay, DotPay, Carte Bleue, iDeal, direct eBanking, and GiroPay.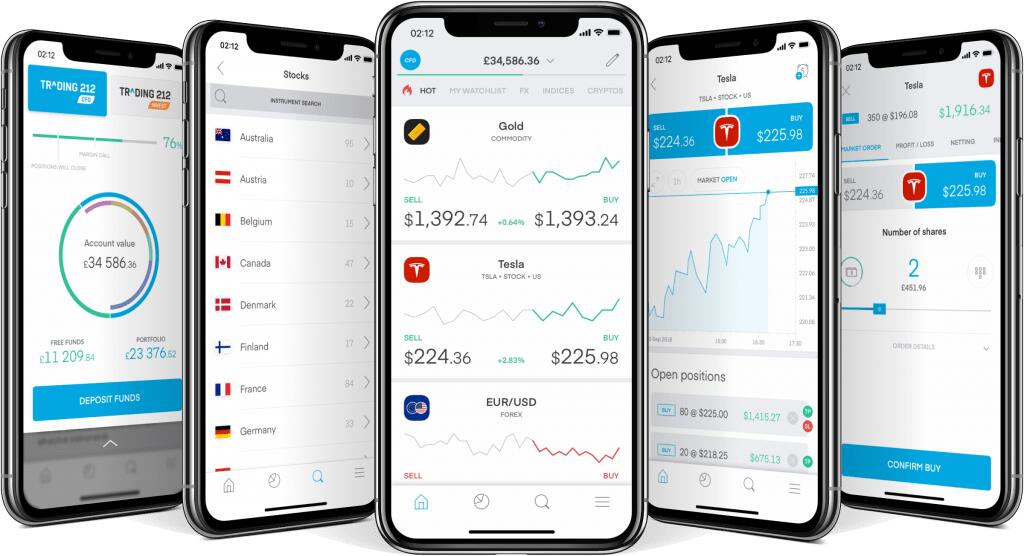 Trading 212 Trading Platforms and Tools
Being a fintech firm, Trading 212 offers its own proprietary trading platform. It comes in several versions, suiting various trading devices including desktop or Mac, Android and iOS smartphones, and tablets.
It has a WebTrader platform for traders who want to do away from downloading and installing programs as. By going to Trading 212's official site, traders can access its WebTrader which can be opened by using any browser type including Google Chrome, Safari, Opera, and Mozilla Firefox.
The WebTrader features different chart types (Heikin-Ashi, line, area, bar, and candlestick), ten timeframes, an array of customizable technical indicators, notifications, economic calendar, and market news and analysis feeds.
For mobile trading, Trading 212 has the industry-popular Trading 212 app in iOS and Android versions. It is available in multiple languages similar to WebTrader. The mobile trading platforms have a good and intuitive interface, price alerts and notifications, trading signals, Market Analysis, Automated Trading, Scalping and Hedging modes, and One-click Trading.
Bottom Line
Trading 212 is a good try for beginning traders with small trading capital, has a good educational facility, and zero-commission trading. Its proprietary trading platform offering is internationally distinct and provides a wide range of financial instruments.
Minus its lone proprietary trading platform, Trading 212 has a good trading environment and regulated trading services.