XTrade is a financial services provider based in Europe. It holds nearly two decades of experience in the markets and has expanded its reach to countries in Asia and Europe. This review will focus on XTrade's services, features, and trading conditions.


XTrade Regulation and Security
XTrade forex broker was created in 2003 as a brand name under the company XTrade Group Ltd. It is a Cypriot broker that served as an umbrella company for more brokers formed under it. Its headquarters are located in Limassol, CY. This broker has more than 15 offices across the world and operates under the regulatory standards of 10 trusted bodies. Its operations in Asia have extended to Malaysia and the Philippines, while its Middle East offices are in the U.A.E. however, it is important to note that XTrade does not offer its services to several countries, including Canada and the United Kingdom.
This broker's main regulator is the SEC in Cyprus, which gives it the right to provide services within the EU jurisdiction. Other than that, there are also several international agencies that regulate it for its international licence. This broker is also compliant with the regulatory standards set by the FSC, which further expands the broker's jurisdictional right to offer services.
XTrade implements a string of security measures in place to protect clients from a variety of market risks. Massive losses, among others, are the most worrisome risks that traders encounter everyday. To compensate for this, XTrade has enrolled in the ICF, an insurance scheme that compensates traders for up to 20,000EUR under proven circumstances that this broker failed to deliver its clients' rightful profits. Moreover, XTrade also keeps its clients' funds in secure banking institutions to ensure that the company's corporate funds are distinguished from that of the clients'.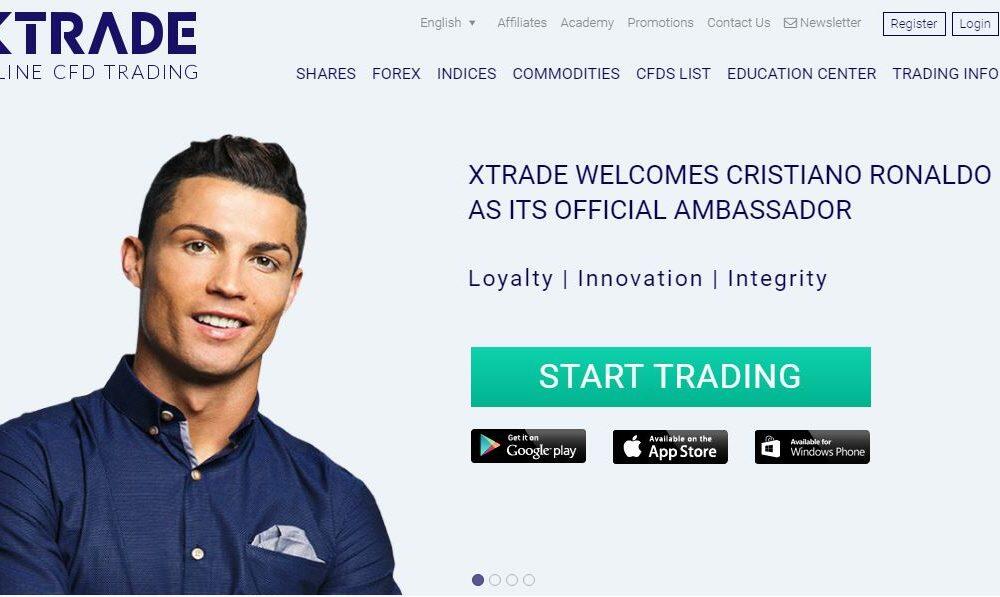 XTrade Platform Services
XTrade is popularly known to provide a proprietary platform that delivers all the trading needs of its clients. Below are the highlights of this platform's features and how it compares to other platforms in the industry.
XTrade WebTrader
The XTrade WebTrader is a proprietary platform offered by this broker. It offers functionality through its excellent features and convenience through its non-requirement for installation. This platform uses an intuitive but user-friendly interface, much like the MetaTrader platforms, and provides a wide scope of effective tools. Since it was launched, it has received multiple recognitions from different trading bodies in the industry, guaranteeing its excellence. The XTrade WebTrader provides clients access to numerous tools, indicators, timeframes, graphical tools, and charts. It enables users to make informed trades every day. Moreover, it is also equipped with a number of research and educational tools that also serve as additional information for every trade that clients execute. This platform is excellent in its own sense and can compete with industry-grade platforms like the MetaTrader.
XTrade Trading Conditions
XTrade, much like any other broker, provides trading conditions that are commonly offered in the industry. It offers average spreads and charges fees for overnight trades. Below are more in-depth discussions of these.
Spreads & Commissions
XTrade offers a fee structure that does not charge clients any commissions. The latter are already embedded in the spreads of assets that they trade, which means that some assets may use higher spreads than others. For starters, major forex currencies use spreads that range from 1.5 to 6 pips. Minor and exotic pairs are more likely to use lower spreads since they are less traded in the markets.
When it comes to the fee structure, XTrade charges overnight fees for every trade left open after the market's close. This broker also charges an inactivity fee that could go as high as $50, but it is only imposed on accounts that have been inactive for at least three months.
Leverage
The leverage levels offered by XTrade generally range between 1:1 to 1:400 for international clients. However, as most European traders know, they can only use up to a maximum of 1:30 due to ESMA laws and regulations. The leverage offered also varies with the type of asset traded. It is usually higher for currencies since this market is highly volatile. The lowest spreads available would be for commodities since traders usually invest high-volume trades in this market. The higher the leverage is, the bigger the risks are.
XTrade Conclusion
XTrade is a well-known broker in the market. It has been around for almost two decades and has opened thousands of accounts for clients across the world. It offers decent trading conditions, but its main downside is with its security and reputation. While it is regulated by trusted regulators, including an EU body, it has been plagued with negative feedback from clients. Traders should take this into consideration before trading with XTrade.