TD Ameritrade Overview
Standing as one of the largest brokerage sites in the industry, TD Ameritrade provides consumers a choice of trading platforms, including its basic website, mobile applications, and thinkorswim platform, which is optimized for derivatives-focused active traders.
Discover the trading wonders and conditions offered by TD Ameritrade by reading this detailed broker review.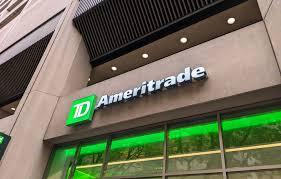 TD Ameritrade Background & Safety
From being First Omaha Securities during its foundation in 1975, it evolved into TD Ameritrade and has remained a leader in an industry for more than 40 years that continues to innovate new ways to make Wall Street more available to individual investors.
At present, TD Ameritrade provides investment and trading services to more than 6,000 independent registered investment advisors for 11 million client accounts totaling more than $1 trillion in assets, and custodial services. It maintains the leadership position it assumed when founder Joe Ricketts opened his doors in Omaha in 1975, with clients placing, on average, approximately 500,000 trades every day.
Aside from operating a bank and being a publicly-traded site, TD Ameritrade boasts its multiple regulatory certifications from major regulatory bodies such as the Investment Industry Regulatory Organization of Canada (IIROC), Commodity Futures Trading Commission (CFTC), Securities Futures Commission (SFC), Monetary Authority of Singapore (MAS), and the Financial Conduct Authority (FCA).
Note, though, that TD Ameritrade does not provide its services to some jurisdictions including Australia, Canada, Hong Kong, Japan, Saudi Arabia, Singapore, UK, and the countries of the European Union.
TD Ameritrade Features & Fees
Market Coverage
Aside from forex trading, TD Ameritrade offers clients an array of financial products to invest in. it includes stocks (Equities, international stocks trading, and IPOs), options, ETFs, Mutual Funds, (over 13,000 mutual funds from leading fund families and a broad range of no-transaction-fee (NTF) funds), futures (over 70 products), Margin trading, cryptocurrencies, managed portfolios, cash solutions, bonds & fixed income, annuities, and IPOs.
In addition to these financial products, TD Ameritrade also offers other financial services including Dividend Reinvestment and Collateral Lending Program.
Account Types
TD Ameritrade has its standard brokerage accounts classified according to ownership which are Individual, Joint Tenants with Rights of Survivorship, Tenants in Common, Community Property, Tenants by the Entireties, and Guardianship or Conservatorship.
The Individual account is a standard brokerage account with only one owner. There is no minimum funding required to open this account. However, special promotional offers may be subject to requirements. Electronic funding minimum is $50. Margin or option privileges on the account require a minimum of $2,000.
The Joint Tenants with Rights of Survivorship account is good for two or more account owners. It also no minimum funding but a $50 Electronic funding minimum, and $2,000 for Margin or option privileges on account.
The Tenants in Common account has two or more account owners with each person owning a specified percentage of the entire property. It has the same set of account minimums as the Joint Tenants account.
If you are investing as a married couple, open the Community Property account or the Tenants by the Entireties account. The same account minimums with the previous two account types must be maintained.
Lastly, the Guardianship or Conservatorship account is for a minor or a person who can no longer manage his or her own property or financial matters; hence, the account is managed by a guardian or conservator.
There are other account types TD Ameritrade offers depending on the service the user is trying to get access from. These include Retirement, Education, Specialty, and Managed Portfolios.
Trading Fees
TD Ameritrade has $0 commissions on online stock, ETF, and option trades. Moreover, Per-contract commissions are $0.65. Fees are waived for contracts priced at $0.05 or less. VIP option customers are able to privately negotiate discounted commissions based on volume. Live broker fee is $25 per trade across asset classes.
Funding Methods
There are several ways to fund your accounts with TD Ameritrade. These include electronic bank deposit, wire transfer, check, account transfer from another firm, and physical stock certificates.
TD Ameritrade Trading Platforms & Tools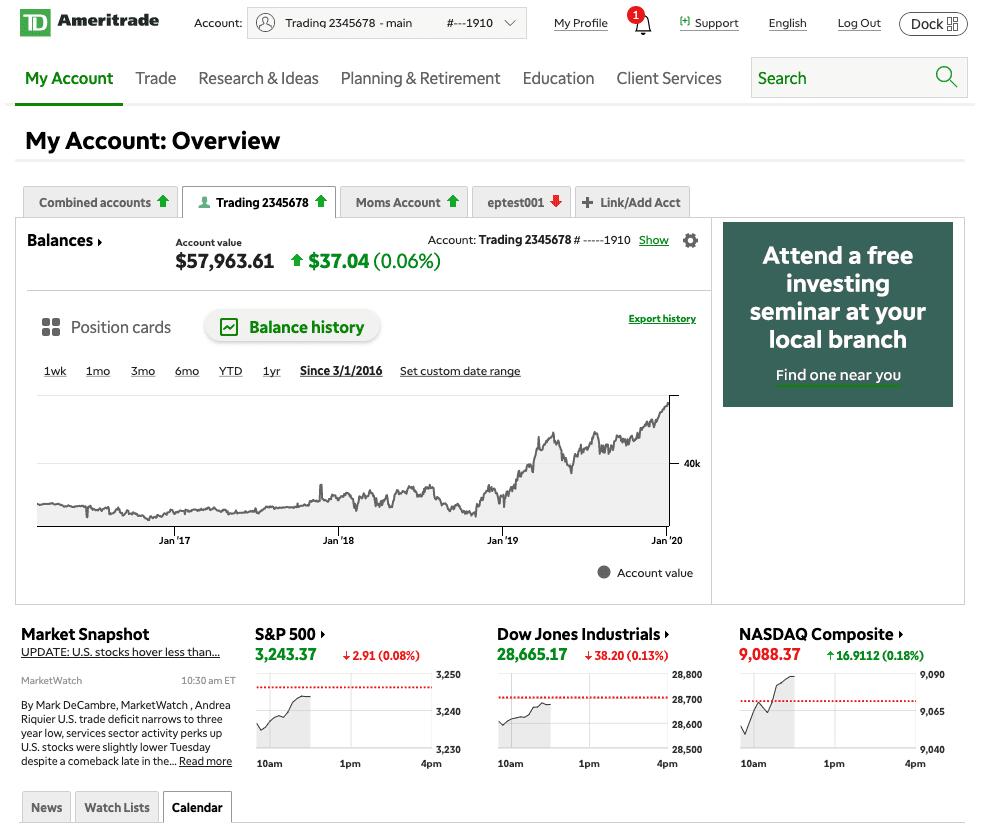 TD Ameritrade has a unique platform offering in thinkorswim. This platform enables desktop-based trading, mobile trading, and web-based trading.
thinkorswim, a fully customizable trading platform, has elite level tools to perform analyses and test strategies, idea generation with market scans and ability to monitor potential risk/reward, and onboarding tools like thinkManual and platform tutorials to get started quickly.
Its web version features an intuitive interface that puts critical tools front and center and preconfigured strategies for one-click trading.
In terms of educational tools, TD Ameritrade is second to none. It features an array of modern educational tools (live video, recorded webinars, articles, courses) to fully equip its clients with all the necessary trading knowledge and experience. It also sports top-notch research amenities.
Bottom Line
TD Ameritrade has a competitive trading environment as it offers various trading platforms, complete educational materials, and modern research amenities. On top of that, it also has a good selection of financial products to choose from.